Helping companies build

Organizational Cultures

based on values and performance
The first

how-to

book on building great organizational cultures


















Ann Rhoades shares her secrets to building great organizational cultures.
Title: Built on Values Creating an enviable culture that outperforms the competition.
How can this book help my business or organization?
What makes this book different?
Available Online At
- Barnes & Noble - Amazon
- 800-CEO-Read - Wiley
Click to receive a free white paper of our proven model for creating a high performing organizational culture
Welcome to People Ink from Ann Rhoades …PRES (Person Responsible for Extraordinary Service)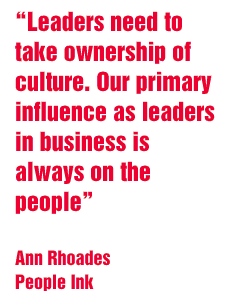 Just released.
A web-based culture building tool designed for business professionals & small business owners.
(powered by People Ink)
Build Your Culture-Like a Pro
Design and implement your own unique culture blueprint.

The do-it-yourself culture management portal.

Processes & training ensures you hire "A" players that match company values.

Practical, how-to steps you can actually use.
- Find out more -
Find out the essential principles for creating both a legendary and high performing culture.
A culture exists in your organization but is it the one you want? Create an intentional culture by design, not by chance. read more
Win customer loyalty while increasing sustainable bottom-line results by maintaining a workplace culture that inspires trust. read more
We're Passionate Abo
ut Culture
We are passionate about our mission: To help organizations create unique workplace cultures based on values and performance. Our Built-On-Values® leadership model has evolved over twenty-five years based on our experience developing people-centric cultures for high performing companies like - Southwest Airlines, Doubletree Hotels, JetBlue Airways, and Loma Linda University Med. Center. See our client list here.
We help companies build

High Performing Organizational Cultures

around Values and Behaviors
Behaviors bring corporate values to life, without them values often end up as empty words on the wall. This is part of what distinguishes People Ink's organizational culture leadership model from others. It is the first to provide leaders with five essential principles for creating both a legendary and high performing organizational culture. It starts with developing a Values Blueprint® that leaders can use to implement a values-based workplace culture.
Evaluating Your Organizational Culture Strategy
You already know that a culture exists in your organization, but is it the one you want, can everyone describe it, and does it align with strategic goals? If not, it's time to examine your organization and create a culture with intention. We have proven that it can be done. Businesses that prosper during both good and tough times are those anchored in their core values. Our practice is built on five principles for creating a values-centric culture. Click here to find our more organizational culture strategy.
Simple Steps to an Intentional Organizational Culture