We recently received this question from a reader:
"I have a quick question….  I am working with a client to define "values."  Bought your book and discovered that the Values Team is doing much of what you suggest, which is nice to learn! However, we are getting very hung up on what is a value, vs. a strategy.  I don't find any distinguishing definitions in the book.  Any help?"
What are Organizational Values?
This is a great question and one we get asked frequently when we are facilitating Values Blueprint® Workshops. Organizational Values are those beliefs held so strongly that they drive people's behavior and dictate how people interact with and treat each other. Values, together with their defined Behaviors, set the minimum expectation of behavior for everyone in your organization, and help to lay the ground work for your company's culture. We call this set of Values and Behaviors a Values Blueprint®. If your organization has been working on its culture for some time, then all employees should be able to state your organization's Values and describe the Behavior that is expected of them.
As an example: One of
JetBlue Airways' Values
is Fun. The Behaviors they have defined for Fun include:
Exhibits a sense of humor and ability to laugh at self
Adds personality to the customer experience
Demonstrates and creates enthusiasm for the job
Seeks to convert a negative situation into a positive customer experience
Creates a friendly environment where taking risks is okay
If you do a good job of defining your Core Values with Behaviors, you can hire to it, promote to it, evaluate to it, reward to it, and fire to it.
Don't Confuse Values with Results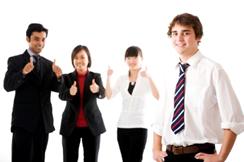 Strategic Goals specify WHAT your organization will accomplish. Values specify HOW you will accomplish your goals. When identifying the corporate Values, you want to make sure the words you choose actually are Values. When your team suggests a word as a Value, make sure the word is something you can create behaviors around, after all… Values without Behaviors are not actionable. You also want to make sure proposed Values do not represent expected results. For instance, Financial Success might not be a Value. Financial success is a result rather than a Value. Financial success is the result of possibly several values, such as good customer service, fiscal responsibility, and sustained growth.
Organizations that do a good job of defining their Values with Behaviors will eventually create a culture that supports high performance. The Juniper Networks Values Blueprint®, known as "The Juniper Way," sets the expectation that every employee living the five Values is fundamental to their success in the next decade: Authentic, Trust, Excellence, Bold Aspirations, and Meaningful Difference.