Can lava lamps and beanbags REALLY inspire innovation?
This is a guest post by Kursty Groves of EnviableWorkPlace.com (visit their site to read more interesting articles on workplace culture, design, creativity)
News travels fast when there's a new cool office that's been opened – especially when that office belongs to one of the most talked-about companies in the world: Google.  With about a billion requests processed per day by the ubiquitous search machine, Google's bid to 'organise the world's information and make it universally accessible and useful' is ever-becoming a reality.   But what's just as remarkable as the bold business ambition is the expectations on what Google demands of its work spaces.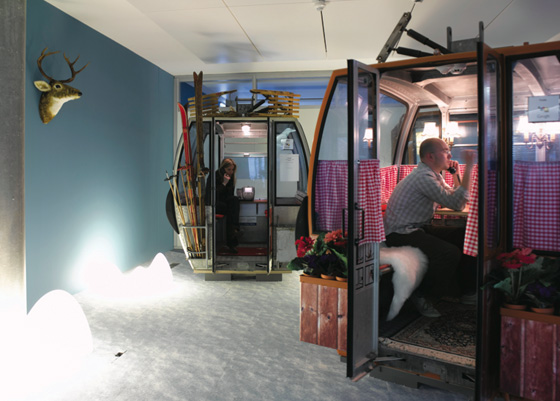 Google's recently opened new 'overspill' office in London remains true to it message that the office is an opportunity to show employees that it cares, and that work can be, no should be fun.  The following extracts from I Wish I Worked There! – A Look Inside the Most Creative Spaces in Business refer to Google's Headquarters in Mountain View, USA, Google New York, Google Zurich and Google London specifically:
"Googly principles, Local Flavour
With offices and centres of engineering all over the world, maintaining a sense of identity is important for preserving the Google culture.  Visit more than one location and you begin to appreciate that there is a balance to be maintained between a strong company identity and encouraging expressions of local flavour.  The same fundamental principles are shared across any Google office globally: individual-to-team space ratio, common areas and number of meeting rooms as well as a few staples such as the micro-kitchens, tech stops and lava lamps in the lobby, but there's also a different Googly imprint to every office.  With around 400 people, Zurich boasts the largest population of Google engineers outside of the USA and, as one of the newest spaces in the Google family, has benefited from the experiments and learning from other offices.  Located in an old brewery, a complete refit enabled the best of Google working environments to be put into implementation.  With 100 meeting spaces to furnish, the in-house team had the freedom to break away from the standard glass cubes; instead fashioning 'huddle spaces' from reclaimed ski gondolas, refurbished Antarctic expedition igloos and egg-shaped dens, each decorated according to different themes that correspond with different working floors. Meanwhile New York is the largest Google office outside of Mountain View, spans an entire block in Manhattan's Chelsea district and is home to almost 2,000 Googlers.  Here, micro-kitchens look more like funky loft apartments, scooters replace those Mountain View bicycles and its floor plan echoes the Manhattan street layout.
By having a standard approach to the way the company operates – learning what works and continually building on that – Google saves on having to reinvent and redesign the basic workspace.  Importantly, they have a solution for keeping entrepreneurial energy alive, while leaving room for local teams to cast their own image and personality on the spaces.  This is empowerment and individuality at work, all at once.
Serious Without A Suit
With a spaceship, slides, igloos and firemen's poles, Google's office spaces sound more like a themed adventure park than the working environment of a global brand.  Yet while they have developed a reputation for goofy-sounding offices, what lies beneath the bright colours, lava lamps and yoga balls is a deep understanding of the drivers behind creative thinkers and how the environment can play a huge role in making challenging work fun.  By developing and nurturing a relaxed, playful and fun atmosphere, more profound, human connections are created amongst people, reducing the fear factor and ensuring good work gets done.  At Google the culture and internal practices often evolve as a result of environmental needs, not the other way around. A slide isn't a childish gimmick, it's an efficient way of descending from floor to floor.  Coloured exercise balls are good for your posture, cheap and fun."
A word of warning: What works for Google and its people will not work for all. Bold, themed playrooms will appear tacky and forced in a company that values subtlety and whose personality is reserved.  Take time to understand the essence of your culture and use that as inspiration to wear your heart on the walls.
For more about Google and other enviable workplaces, check out I Wish I Worked There! – A Look Inside the Most Creative Spaces in Business. *Photographs published in I Wish I Worked There! and used with permission by Google, Inc.*
This article published with permission from EnviableWorkplace.com