Ann Rhoades' Book on Organizational Culture becomes an Award Candidate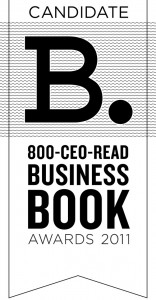 Thanks to everyone who has purchased the book Built On Values-Creating an enviable culture that outperforms the competition  by Ann Rhoades.  People Ink has received positive feedback from business leaders, companies, and clients about the value and usefulness of the book.  It is now a candidate for the 2011 800-CEO-READ Business Book Awards.  Nominees for the the 2011 awards are posted here
The winning books, authors, and publishers from the categories of Marketing and Sales, General Business, Entrepreneurship and Small Business, Finance and Economics, Innovation and Creativity, Leadership, Management, and Personal Development will be announced in January 2012.
– The book – Built on Values helps companies get on the pathway to greatness by showing the exact steps for either curing an ailing organizational culture or creating a new one from scratch. –

800-CEO-READ's founder and president Jack Covert says the  Book Awards offer a great opportunity to review and distinguish the top titles of the year. "We want to thank the nominees and everyone who participated in this year's awards. For the past twenty-seven years, we've been the only bookseller in the country focused exclusively on the business audience. This experience has put us in the unique position to highlight the best of the genre," says Covert.
Ann Rhoades is an experienced Human Resources expert, she is known for creating corporate cultures based on values, customer service excellence, and employee engagement. Prior to founding People Ink Ann served as the Chief People Officer of Southwest Airlines, Promus Hotel Company (Doubletree Hotel, Homewood Suites, Embassy Suites, and Hampton Inn brands), and JetBlue Airways.